General Election: November 8, 2022
Kane County residents will vote on Federal, State and Local races in the 2022 Primary and General Elections.
About the 2022 Midterm Elections:
"We are in a battle for the soul of America," presidential candidate Joe Biden said three years ago. He went on to say, "America is an idea — an idea that's stronger than any army, bigger than any ocean, more powerful than any dictator or tyrant." Today the battle for a more perfect, more just and more equitable union continues. Your vote is your voice, make it heard.
Featured on this page are KCDW candidate members running in the 2022 primary and general elections for federal, state and local offices. There are a number of ways to help support their campaigns. We encourage you to get involved.
Federal Candidates
Lauren Underwood | Rep 14
Member Candidate
Congresswoman Lauren Underwood is the U.S. representative for Illinois' 14th Congressional District, which is a suburban, exurban, and rural district in northern Illinois. In 2018, she became the first person of color and the first woman to represent her district.
Lauren is a hard worker and an effective leader for her district. She currently serves on the House Committee on Veterans' Affairs and the House Committee on Appropriations. While only a sophomore member of Congress, Lauren has had nine pieces of legislation enacted into law by both Democrat and Republican administrations, making her one of the most effective legislators in the House of Representatives. As a registered nurse and public health expert, Lauren has made access to high-quality, affordable healthcare one of her signature issues. Her bill, the Healthcare Affordability Act was included in President Biden's American Rescue Plan. Lauren also co-founded the Black Maternal Health Caucus to combat the health disparities and unacceptable high death rates among Black mothers. Along with colleagues, she introduced a package of 12 bills to save moms' lives: the Black Maternal Health Omnibus Act of 2021. She is a member of the Congressional Black Caucus.

Prior to serving in Congress, Lauren worked to implement the Affordable Care Act as a career civil servant. Later, President Obama appointed her to serve as a Senior Advisor at the Department of Health and Human Services, where she helped communities prevent, prepare for, and respond to public health emergencies , bioterror threats, and disasters.
State Senator Candidates
Cristina Castro | 22
Member Candidate
State Representative Christina Castro represents the 22nd District in Illinois, which includes all or part of 10 different communities within Cook and Kane Counties. Castro is a second-generation Mexican-American who is committed to public service and helping her community. Castro began her volunteer service in high school where she coordinated activities in the Elgin community. Following high school, Christina earned a B.S. and MBA in Business Administration from Northern Illinois University.
In 2008, Castro was elected to the Kane County Board where she served for eight years while also being on the Board of Directors for the Illinois Housing Development Authority, Black History Family Festival, and the Centro de Informacion, which provides services for people in need. Castro has held positions in both the public and private sector. In 2015, Castro decided to run for the Illinois State Senate. In her role as a senator, she stands up for working families and reaches across the aisle on the issues that matter most to the people in her district. She is a member of the Latino Caucus and is Chairperson of the Executive Committee. She also serves on the Commerce, Energy and Public Utilities, Healthcare Access and Availability, Insurance, and Labor Committees. Castro and her husband live on the east side of Elgin.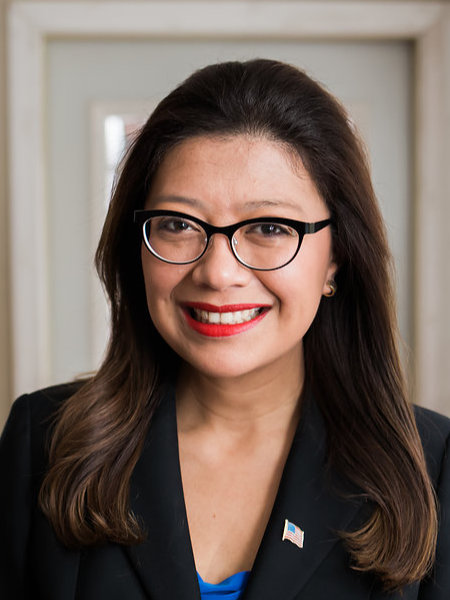 Karina Villa | 25
Member Candidate
Karina Villa grew up in West Chicago and is the first democratic state senator to represent the 25th district where she has been a lifelong resident. Raised by immigrant parents who opened a small business, Karina grew up helping in the family store and recognizes the hardships of being a small business owner as well as the everyday concerns of working-class residents who shop in the community.
After earning her M.S. in social work, Karina pledged a lifelong commitment to helping others. While working in the public schools, she saw the impact effective leadership can have on the community and served as the vice president of the District 33 school board. She initiated programs such as a dual-languate program and full-day kindergarten. And she learned the ins and outs of maintaining a balanced budget and negotiating equitable contracts. During the onset of COVID-19, Karina brought forward legislation to protect essential workers in manufacturing and organized tesing and vaccination sites in her district. She continues to fight for funding and equity in mental health services, addiction treatment, healthcare in rural areas, and affordable pricing for life-saving medications. Karina works tirelessly to support working families in her district and to make sure that Illinois becomes a national leader in green job creation and green infrastructure.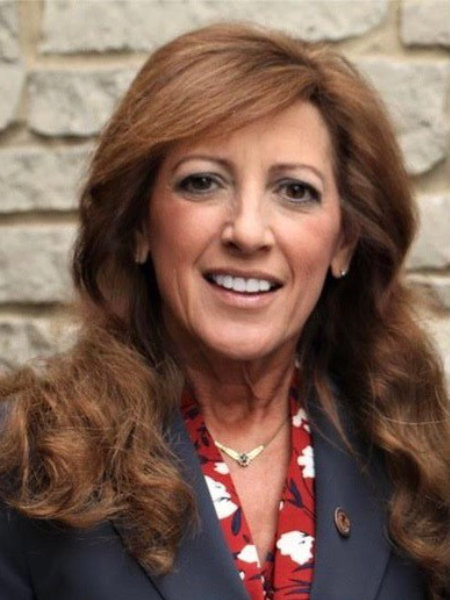 Linda Holmes | 42
Member Candidate
Assistant Majority Leader Linda Holmes represents the 42nd District in the Illinois Senate. Linda advocates for working families and businesses and brings nearly two decades of experience to the state legislature as a small business owner. She understands the challenges small businesses face and has sponsored legislation to help them cut through red tape, grow, and retain employees.
As Chair of the Labor Committee, Linda advocates for more training opportunities and good-paying jobs for families. Since being diagnosed with MS, Linda knows the importance of insurance and fought for access for affordable healthcare. She voted to expand prescription drug coverage amd supported a law in Illinois that protects a woman's right to choose.
Keeping our communities safe is crucial, and Senator Holmes supports initiatives to recruit qualified law-enforcement officers as well as provide a budget that funds public safety in communities across the collar counties.
State Representative Candidates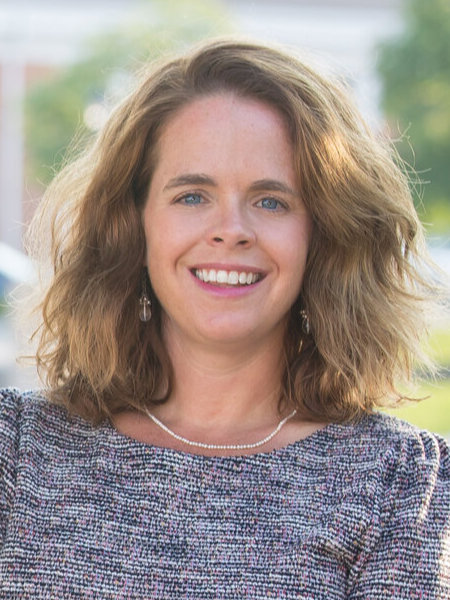 Maura Hirschauer | 49
Member Candidate
Maura Hirschauer was elected in 2019 as the state representative for the Illinois 49th District and is currently running for re-election. Maura has been an activist, community organizer, and an elementary education special education teacher.
After leaving teaching to raise her family, Maura taught ESL to adults and volunteered to teach literacy to elementary students. As president of the Batavia Mothers' Club, she has overseen fundraisers and community service projects and worked closely with nonprofit organizations throughout the Fox Valley area. Maura is one of the founding members of the Kane/Kendall County chapter of Moms Demand Action for Gun Sense in America, holding the positions of Membership and Legislative Lead.
Her experience and education have prepared her for her committee assignments in the state legislature, which include the Appropriations-Elementary and Secondary Education Committees, Elementary and Secondary Education School Curriculum Policies Committee, Prescription Drug Affordability Committee, Child Care Access and Early Childhood Committee, Housing Committee, and Veterans' Affairs Committee. Maura is a neighborhood leader, fighting for working class families and for quality education and safety for children.
Robertson | 65
Member Candidate
Linda Robertson believes that voters should have a choice, and she decided to run for IL District 65 to give voters a chance to choose clean air and water, to control their own healthcare decisions, and to choose gun laws that keep people safe.
Linda and her husband Len moved to St. Charles in 1988 to pursue their careers and raise their two daughters. Linda is an environmental/ industrial microbiologist and led research in managing water and wastewater projects for Weyerhaeuser and Nalco for almost 20 years, receiving 12 patents and assisting companies locally and internationally. In 2007, she started her own international consulting business.
Linda believes reproductive healthcare decisions should be made between a woman and her doctor, without the involvement of politicians. She sees climate change as a crisis issue, threatening the quality of life for this generation and the next. The unprecedented number of mass shootings is another public health issue that Linda wants to change by working with others to pass common-sense gun laws.
Linda and her husband enjoy kayaking on the Fox River, which is a wonderful resource and treasure for residents in the Fox River Valley. Linda's work experience and problem-solving skills ensure that she will protect not only our rights to choose but also our rights to have a safe environment.
Matt Hanson | 83
Member Candidate
Matt Hanson is running for State Representative for the Illinois 83rd District, which encompasses a number of towns south of St. Charles. For 17 years, Matt has worked as a Burlington Northern Sante Fe engineer and understands the concerns of working-class families.
Currently, Matt is the Vice President and Assistant Legislative Representative for SMART TD Local 172, an affiliate of the AFL-CIO, that represents 125,000 active and retired railroad, bus, and mass transit workers in the U.S. He is also a member of the METRA Citizens Advisory Board and a former METRA Board member.
Matt has served his community in a variety of ways. From 2019 to 2021, he was a Commissioner for the Forest Preserve District of Kane County and also represented District 6 on the Kane County Board. As a board member, he was co-chair of the Legislative Committee and served on the Transportation Committee, Labor Management Committee, Executive Committee, and Cares Act Allocation Committee.
Kane County Judicial Candidates
Bianca Camargo
Judge 1st SubCircuit
Member Candidate
Judge Bianca Camargo was recently appointed by the Illinois Supreme Court to fill a Circuit Judge vacancy in Kane County. This appointment made Judge Camargo the first Latina Circuit Judge in the history of Kane County. In addition, Judge Camargo is one of five women who has been directly appointed by the Illinois Supreme Court to serve as a Circuit Judge in Kane County.
Prior to her appointment, Judge Camargo worked as a prosecutor for the Kane County State's Attorney's Office for eleven years. During her career as a prosecutor, she tried over 100 cases to trial, including victim sensitive crimes, drug trafficking cases and murders. Judge Camargo's desire to become a prosecutor was solidified while she worked for the Kane County's State's Attorney's Office as a victim advocate in 2006. Judge Camargo is currently assigned to the Aurora Branch Court where she oversees traffic and misdemeanor cases..
Judge Camargo proudly accepts this appointment on behalf of her parents, Heriberto and the late Sandra Camargo. Judge Camargo acknowledges that she would not be in the position that she is in, if it were not for the hard work and sacrifices of her parents. Heriberto and Sandra immigrated to the United States from Mexico and settled in Aurora, Illinois.
Judge Camargo is a proud 2010 graduate of Northern Illinois University College of Law and a 2005 graduate of Northern Illinois University. Judge Camargo lives in Aurora with her husband, Armando and their four-year-old son.
Chris Kennedy
Appellate Court 2
Member Candidate
Judge Chris Kennedy is running for the Second District Appellate Court. He is currently a trial court judge in Lake County assigned to the criminal division where he hears traffic/DUI, misdemeanor, and domestic violence cases. He has practiced in diverse areas of law, focusing on major litigation and trials.
Judge Kennedy is the grandson of immigrants and the son of union workers. He attended law school on a scholarship and began his legal career as a prosecutor in the Lake County State's Attorney's Office, trying numerous trials. After working as a prosecutor for several years, he went to a firm in Chicago where he tried catastrophic personal injury cases in state and federal courts. In 2004, he formed a firm with a partner, focusing on personal injury, wrongful termination, and contract cases. He also took on the responsibility for drafting and passing laws on behalf of children with autism and developmental disabilities, passing over a dozen laws and programs in Illinois that helped thousands of families. Judge Kennedy is the only candidate who has enforced the law as a prosecutor, written laws as an advocate, upheld the law for victims who were clients, and decided the law as a judge.
Kane County Candidates
Jeff Pripusich
County Treasurer
Member Candidate
Jeff Pripusich is the Democratic Party candidate for Kane County Treasurer and brings forty years of accounting experience to the table. Upon graduation from college in 1982, Jeff obtained his first accounting position. Three years later, he obtained a collector position at Dun and Bradstreet where he worked with both internal and external clients.
For the next 35 years, Jeff continued working in accounts receivable/credit & collections. For 25 of those years, he has worked in management, guiding a select group of employees and serving as Credit & Collections Manager in his present position.

Jeff's leadership and accounting ability has led to volunteer positions in the community. He is currently serving a three-year term as the financial secretary of the Knights of Columbus in North Aurora. Jeff has also served as treasurer for the non-profit Albright Theater Company in Batavia for four years. He remains active in community theater and has sung with the "The Patriots" band, which performs at various veterans' functions.
Although Jeff is content with his current position, he sees the opportunity to serve the residents of Kane County (and his beloved town of North Aurora) as a privilege and honor. Jeff, his wife Cyndi, and their daughter Hannah have lived in North Aurora for 23 years.
Kane County Board Candidates
Anita Lewis | 03
Member Candidate
Anita Lewis has been a Kane County Board member since 2018 and is running for re-election. She represents District 3, which has been redrawn to include downtown Aurora and parts of the east and west sides of Aurora in addition to much of Montgomery. Anita serves on the following county board committees: Public Service, Public Health, Human Services, and Jobs.
Anita has lived in Aurora for 30 years and served as a school board member for District 131 from 2009 – 2013. In addition to being a board member, she volunteers at the Adult Corrections Center, where she facilitates a life skills group and serves as a volunteer chaplain.
Mavis Bates | 04
Member Candidate
Mavis represents District 4 on the Kane County Board and is running for re-election. As a resident of Aurora for 46 years, Mavis has been a grade school teacher, a software developer, and a supervisor at AT&T Bell Labs. She also operated her own small business as a licensed acupuncturist for 15 years, which gave her experience in healthcare and running her own business.
Mavis' community involvement includes being the founder and chair of the Aurora GreenFest, which attracts thousands of people each year; being a member and past president of Kiwanis of Aurora; and serving on the Fox Valley United Way Board. Before her election to the Kane County Board, Mavis served as a commissioner on the Fox Valley Park District Board. Mavis hopes to continue serving the people of Kane County because she cares about supporting families, building community, and protecting the beauty of Kane County.
Michelle Gumz | 08
Member Candidate
Michelle Gumz worked for the Aurora Police Department as a 911 dispatches for just under 20 years and currently represents District 8 on the Kane County Board. She was raised in Aurora and is proud of serving the community as a dispatcher and the work she does on the Kane County Board where she co-chairs the Legislative Committee. She was also appointed to sit on the DUI Treatment Court Team and the Pre-Arrest Diversion Team and sits on various other committees.
Serving others is important to Michelle, and she strives to solve constituent issues as they arise. She is the President of Roosevelt Aurora Legion Post 84 Auxiliary, which provides assistance to veterans. Michelle's goals are to listen to residents in the county, meet people where they are, and go forward with thoughtful decisions with each vote she casts for her constituents.
William Tarver | 10
Member Candidate
Bill Tarver is not a career politician, but he decided to run for the County Board District 10 seat because we are facing challenging times. Bill believes that his professional experience as a school social worker and his personal experience as a volunteer have prepared him to have a positive impact in the county as a whole. As a restorative practice facilitator, Bill works with youth to help them see how their actions impact those around them. Being a facilitator also includes building and repairing relationships between people and communities.
For years, Bill has volunteered with local nonprofits such as Boy Scouts, Venture Crew youth, and Suicide Prevention Services of America where he and his wife Kim and two sons support fundraising events and work to fight the stigma associated with mental health illnesses. Bill's interests and passions include child advocacy, youth services, public health, veterans' assistance, training and workshop facilitation, equity diversity & inclusion, and social service agencies that help families during times of crisis.

Since Bill has served as the treasurer of a nonprofit organization for 10 years, he understands the need to budget conservatively, closely monitor revenue, and invest wisely. He knows it's possible to keep our taxes in check and maintain and improve the high level of services that make our communities strong. As a resident of Batavia for 17 years, Bill is running to ensure that Kane County is our number one choice to live, work, and play.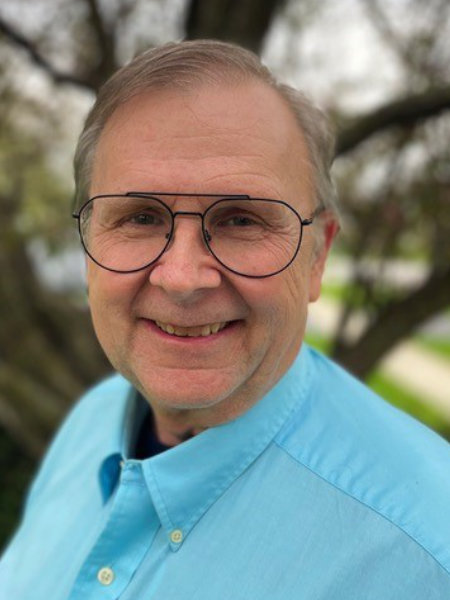 Steve Bruesewitz | 12
Member Candidate
Steve Bruesewitz is running to represent District 12 on the Kane County Board. As a resident of Kane County for 40 years, Steve has volunteered to help others in the community and held leadership positions in local political organizations and campaign finance groups. These include IL Citizens for Clean Elections, Fox Valley Citizens for Peace and Justice, St. Charles Township Democrats, Kane County Democrats, and Move to Amend.
Steve has volunteered with Lazarus House in St. Charles, Habitat for Humanity, and Elgin Pads where he assisted in providing meals and lodging for those in need.
Steve believes that politics should be open and accountable to the people being represented. His plans as a public servant include improving Kane County's public transportation, using wise budgeting to keep property taxes in check, and making the county cleaner, greener, and more prosperous.
Ted Penesis | 16
Member Candidate
Ted Penesis would be honored to represent District 16 on the Kane County Board. As Director of Community Outreach for the Illinois Department of Natural Resources, Ted has successfully negotiated public-private partnerships and worked across multiple industries. Whether it is trying to help youth make better choices regarding drugs and alcohol or protecting our state's natural amenities, Ted works hard to improve the lives of others.
As a resident of South Elgin for 20 years, Ted wants to give back for all he has received from the Fox Valley Community. When asked about needed infrastructure improvements, Ted identified traffic issues on Rt. 31 and a bridge at the intersection of Rt. 31 and Rt. 20 that is nearing the end of its useful life. He also identified a dangerous intersection at Hopps Road and Randall Road, which needs more work because of blind spots at an irregular crossing. Ted has a can-do attitude and needs your vote to represent District 16.
Cherryl Strathmann | 20
Member Candidate
Cherryl Strathmann represents District 20 on the Kane County Board where she serves as Co-chair of the Legislative Committee, which brought back millions of tax dollars for infrastructure needs in Kane County. Cherryl has been an activist all her life and is passionate about ensuring clean safe drinking water and halting the effects of climate change.
As a member of the Energy/Environment Committee, Cherryl worked to get solar panels on the Judicial Center, which will save the county $2 million. She also serves on the Public Health Committee and worked to set up vaccination centers during the pandemic. Cherryl supports a woman's right to choose and common sense gun safety. Improving the community and our way of life in the Fox River Valley is Cherryl's goal. She needs your vote to continue preserving and protecting Kane County.
These important dates have been copied from the Kane County election website: https://www.kanecountyclerk.org/elections
Request Vote By Mail Ballot
Wed August 10, 2022*
*Ballots will not be sent until Thu September 29, 2022
Issue Vote By Mail Ballot
For Military/Overseas
Fri Sep 23 2022 – Tue Nov 01 2022
For All Other Vote By Mail
Thu Sep 29 2022 – Thu Nov 03 2022
Last Day to Register to Vote
Tue Oct 11 2022
Grace Period Registration & Voting
(At Kane County Elections Main Office & Aurora Satellite)
Wed Oct 12 2022 – Mon Nov 07 2022
Early Voting Period
(At Kane County Elections Main Office & Aurora Satellite)
Thu Sep 29 2022 – Mon Nov 07 2022
Permanent Sites – Early Voting Period
(All Early Voting Polling Places)
Mon Oct 24 2022 – Mon Nov 07 2022
Last Day to Count Vote By Mail & Provisional Ballots
Tue Nov 22 2022